His Ambition is The Great American Website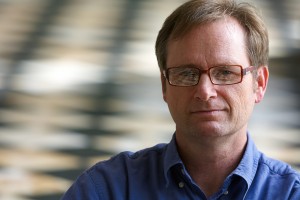 Like all writers, Ernst Schneidereit wants to win the Pulitzer Prize or create a Great American Novel. Like many writers, he's too busy writing to ever get around to either of these goals. So clients of GFX can relax while he is working up their content or editing drafts, because he takes out all of his ambitions on your website.
Reading and writing always occupied his spare time as a child and teenager, using his overactive imagination to create stories about his friends and schoolmates. When his parents purchased an electric typewriter (yes, he's that old), the pages started to pile up around the house. While his first computer solved the paper storage problem, it wasn't until college that he figured out how to make a living from writing.
Looking for ways to help pay the bills at UC Davis, Ernst quickly discovered that people pay good money for clear and concise notes from complex classes. He followed that up with writing for his own comedy news show at the campus radio station and a job in college journalism as an arts reviewer. A stint as the paper's arts editor was followed with the position of writer for UC Davis Presents, part of a winning marketing team that consistently sold-out campus venues. Upon graduation, Ernst continued to write as a freelancer and editor for papers, press releases and marketing campaigns. After nearly thirty years in marketing, we trust his judgment in all matters relating to content for GFX clients.
What is the air-speed of an unladen swallow?
A dedicated Learner, Ernst loves to tackle websites for subjects he knows absolutely nothing about. You could say its just part of his personality. For example, as a college student, he majored in Zoology because the degree requires studying every single animal in the known world. As a result, there's little that seems to faze him when it comes to writing. We're amazed at how we throw things his way and in short order he figures out enough to write circles around your competitors.
But How Much Does It Cost?
Experience provides you with a major benefit: efficiency. Yes, you can hire your cousin or someone living in their mom's basement to write your content. But when they bill you forty hours to write ten pages that you can't use because they're horrible, you start to rethink your decision. Of course, you could always hire a freelancer you've never met off the Internet. Or you can simply use the one person GFX trusts most to get the wording right the first time — Ernst Schneidereit.